The History of Tobacco Policy – Exhibits
The Tobacco Policy and Control Program at the Medical University of South Carolina has developed several educational exhibits that are available for display *FREE of charge at your next conference or health expo. Our exhibits provide important tobacco-policy and health education information that increases awareness of the tobacco epidemic and provides a narrative history of big tobacco's toll on global health.
Our exhibits raise awareness:
The History of Smoking Cessation

exhibit

illustrates a historical timeline regarding smoking cessation, including the methods, medications, and efforts taken to help people quit tobacco use and efforts by the tobacco companies to keep people smoking.
The forces that influenced the sale of cigarettes and the resulting epidemic of lung cancer (A Century of Cigarettes)
The history of the office of the Surgeon General as well as the events that led up to the 1964 SGR report on smoking and health (50 Year Surgeon General Report)
The globalization of the tobacco epidemic, tobacco-related deaths worldwide, and the future forecasts of tobacco related deaths (Framework Convention on Tobacco Control)
Tobacco trials in the U.S. over the past century and how they directly influenced tobacco policy regulations (Towards Health Through Justice)
The evolution of tobacco cigarette designs and packaging over the past century (The Evolving Cigarette)
Our exhibits are perfect for:
Cancer awareness and anti-smoking events
Cancer research conferences
Employee health and wellness events
Health fairs
Health fundraisers or charity walks
Hospital practice openings
Patient education
Tobacco research conferences
Contact us
If you are interested in reserving an exhibit for your next meeting please feel free to contact us: anthony.brown@roswellpark.org
Call 716-845-1613
*Shipping, handling, labor, and other fees are negotiated per event.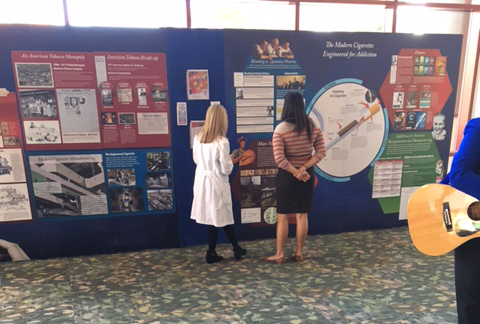 Shine a Light on Lung Cancer provides hope, inspiration and support for those impacted by lung cancer and those at risk. The Evolving Cigarette display was then relocated to our hospital campus. It was displayed in the atrium of one of our pavilions where it was very visible to patients, visitors and staff for the week of the GASO.
read more